Angels' History
We have been around for quite a few years! We were Carcavelos' first Surf School but, by all means, we are not old - we do not get old! However, time did bring about the knowledge and experience that helped Marcos Anastácio (a former surfing champion) and his team turn Angels into a top surf school. Know a bit more about our history...
September 2000

Angels Surf School was born

The School was founded following a partnership between Angels Bar and a group of 5 Carcavelos surfers which included Marcos Anastácio, one of the most electrifying surfers of his generation and a national champion. He still runs the school.

June 2002

Federation Certification

After being acknowledged by the Captaincy of the Port of Lisbon right after the beginning of our activity, we were certified by The Portuguese Surf Federation. Meanwhile we were also recognized by the Tourism of Portugal.

June 2002

The first Surf Clinic

The Surf Clinics were launched in the Summer of 2002, making us a pioneer in this field. Our Clinics purpose is still the same: occupy children's free time from Monday to Friday with plenty of surfing, SUP, beach tennis and environmental education activities.

September 2011

Special Lessons for Children

Angels Surf School was also a pioneer when decided to create lessons specially intended to children including them in groups of similar ages in order to enhance quality and safety. These surf lessons soon became one of the schools' most popular services.

April 2013

The first Surf Trip

We organised the first Surf Trip in Arrifana, Aljezur. Since then the surf trips became an annual experience eagerly awaited by our students because it allows them to discover new places, new waves and, more importantly, to make new friends.
A Champion Team
All our teachers are certified by the Portuguese Surf Federation and they are here to help you since the moment you arrive to school. They will teach you all they know, from the technique to keep your balance in the surfboard to a more advanced surfing level. And more: it's not everyday you can share experiences and with a former national champion. We have one here, Marcos.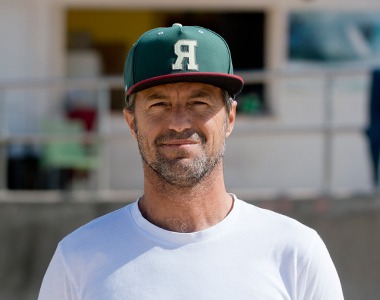 Marcos Anastácio
Angels Surf School Founder | Former Portuguese Surf Champion
---
Carcavelos Beach has always been Marcos Anastácio's homebreak. After shining as one of best Portuguese surfers in the Nineties, founding Angels Surf School was Marcos way to keep his connection with surf and to pass on all the skills and attitude that made him an electrifying surfer and a Portuguese champion. But with no pressure. Marcos thinks "kids have to discover what they want to be for themselves", an idea he defends for its own and also for all other children. You can get to know Marcos a little better in this video. And yes, he still surfs… and big!
What you will find
The experience, team's professionalism, the innovative services and our marvellous Carcavelos beach turn Angels Surf School into the ideal place to learn to surf or to improve your surfing level. Choosing Angels is opting for quality that makes the difference.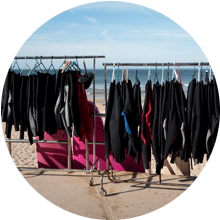 1
Full Safety
Certified teachers, a maximum of 3 students per teacher and rigorous equipment control.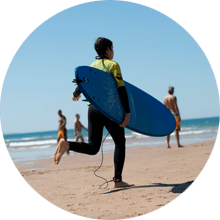 2
Several types of Lessons
Surf lessons for all ages and levels, within a group or with a Personal Trainer. And now also with a champion :)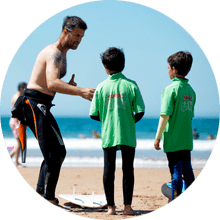 3
Professional Counselling
About techniques, material, different wave types and climate conditions. Do you have any questions? Just ask us.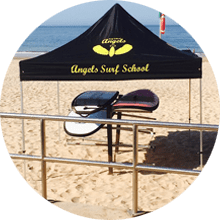 4
Great Facilities
At Angels Surf School you will find everything you need including changing rooms and toilets.
Get in Touch!
By now you should already know that we are located in Carcavelos, between Lisbon and Cascais. The beach is always open and so are we... well, almost. Getting here could not be easier, either by car or public transport. To dispel any doubts, we leave you a map. If you want to contact us before your first visit write to angelssurfschool@gmail.com or call 962 681 113.
School Opening Hours
We are open every day.
Do you want to know us a little better? Come around!